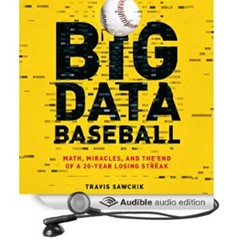 Big Data Baseball by Travis Sawchik will be what I am reading while not watching the All-Star Game.

The All-Star Game means little to me. I find it boring and self-aggrandizing. Give me baseball that really means something. Sure, the winning team gets home field advantage in the World Series, but I like other advantages – like this book.

This is a rolling review. I am only through about 1/3 of the book, so more to come.

But the early chapters are great – even if you are not a baseball nut.

Some takes:

This is really a business book for the 21st Century. Think Money Ball on steroids. (Oops, wrong analogy.)

Sawchik follows Pirates Manager Clint Hurdle and his forced acceptance of using big data to turn around the Pittsburgh franchise that had only small market money to spend on free agents. Hurdle was the darling of the Royals back in the late 1970s but he never made it as a player. Still, he was a smart guy who loves the game and was able to see the changes – and keep his job – despite being old school. Interesting that Hurdle had to forfeit some control of on-field decisions to a geek who never held a baseball bat. Still, notice the Pirates are contending against the best team in baseball – the St. Louis Cardinals right now.

You understand why the Tampa Bay Rays were so successful under Joe Madden. They employed the defensive shifts more than any other team — and successfully — to become the best defensive team in baseball. Any wonder Joe Madden, former Rays Manager, is now the current Manager at Wrigley with the Cubbies.

Of course, at some point, hitters will get the idea to change their ways. Right now, most hitters pull the ball to their power field up to 75% of the time – something I didn't know. I have always yelled at Big Papi (David Ortiz) through the TV to stop trying to hit through the shift and go the opposite way. He has been stroking it off the Green Monstah lately and the Red Sox have gotten more wins. I don't know if it was the book or me yelling.

Although this is new age stuff, the old adage applies. Good pitching and defense beats good hitting. What's added to the mix is the microscopic ability to place players at the perfect position in the field to reduce base hits and thus runs. You still need the pitchers to throw to spots, though.

You also understand how teams like the Kansas City Royals, the Pirates, and the Rays – all small market teams – have gotten a chance to compete and stay with the big boys like the Dodgers, Yanks, and Red Sox who outspend them. One rule I hadn't heard: if one player takes up more than 15% of your salary, you can't win.

This might be what baseball has needed. Granted, baseball might not have the cache that football has. But I think things might be changing for Abner Doubleday's invention as we move into an Age of Geekdom while football gets painted with the bad strokes of long-term brain injuries and players unable to control their off-field anger and behavior.

If you read the book, give me your takes. Or give me some feedback on my baseball observations.

Some background here:

I am a die-hard Red Sox fan. Until I was in my early 20s I considered myself a baseball fan. But my news career forced me to concentrate more on news, politics, and the economy so I gave up on my all-round expertise on every player and team. I can still quote stats and trivia from the 1960s and 1970s – but that is it. As a result, this book is like a reawakening for me into the game I so love.