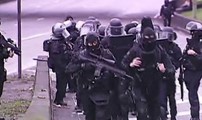 Some thoughts on what transpired in France that so many of us witnessed – without being there.

What a horrific day.

Social media and television brought us there – for good. We get a better understanding of what happened to the French citizens and to a city most of love or dream of visiting. Yes, social media creates sympathy or empathy – despite the distance. We also see how our world is changing economically and politically — and the effect is real and scary.

Social media and television brought us there – for bad too. I wondered during the morning if all the social media and the millions of eyeballs and thumb clicks could have actually hindered the police and military effort to stop these terrorists.

A large part of my posting was done on the tread mill while also prepping for a radio interview and writing a video script for a client. Again, one of my goals here is to help you – and myself – find ways to become informed without disrupting the daily routine of your lives. Sure, I stepped off the tread mill as I posted and I used the voice commands on my iPhone.

Here's what I was watching: SkyNews, Fox News, CNN, and my Twitter feed which follows a ton of news organizations like BBC, Al Jazeera, and NBC.

The best video and broadcast efforts were from SkyNews with live online feeds that had great angles along with correspondents and anchors that seemed to be more in-tune with what was happening on the streets of Paris.

On the print side, The Wall Street Journal was knocking it out of the ballpark, breaking most of the major news items – namely the start of the operations and the deaths of the terrorists. WSJ lit up my iPhone with updates – that were all correct.

Lastly, thank you for all of you that followed me. Many of you were watching other news outlets and notified me. That was great. Think about it. We created our own worldwide news network.

Some questions for those of you who weren't posting but were staying up-to-date:

Was it too much posting?

Would it be better if I just posted on my Informed Not Inflamed Facebook and Twitter pages rather than my main pages during major breaking news events?

Let me know your thoughts on those questions or anything that hit you today.