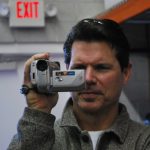 So I am looking for some order here.  You may think I am looking into a camera lens, but I am trying to sort out all that we do here.
And we have found the formula.
This site — Informed Not Inflamed — will strictly be for news, along with media, political and economic analysis/commentary.
This way I can separate some of my other endeavors – like Undercover Jetsetter and other business opportunities.  So the Undercover Jetsetter content will be found here.  In fact, here is our new blog on the TV show, travel, food, wine, golf, business opportunities, and healthcare.
One place where all of the content will come together is on my Blog Talk Radio show.  However, at the beginning of each show/audio clip, you will hear if it is "Informed Not Inflamed" or something like: travel, food, wine, golf, healthcare, etc.
Another holding area for all of my content is my Facebook Fan Page.
Although a lot of my news philosophy and world view – like the real problems and solutions I have outlined — connects indirectly to my other business opportunities and ventures, I want to make sure they are separate so there are no conflicts of interest.
It's an effort to keep news here pure.  Do I succeed?  Not always.  Occasionally some bias and some snark leaks out.  But I am sure many of you can point that out for me.
And for many of you, having to wade through politics and political infighting can be annoying and time consuming when you're looking for info on travel, food, wine, and golf.
And frankly, I am with you.
One of the goals of Informed Not Inflamed is to help you understand the news media – along with our rapid changing times — without having to spend a lot of time away from work, family, or fun.
It is unhealthy to watch news – especially cable news – all day.  Even watching the same channel for more than 3 hours a day can be a downer and a drag on your mental capabilities.
And for breaking news, I have laid out for you how to use Twitter — rather than TV — so you can be notified immediately to avoid danger.
Again my news Twitter site is for you to follow.  Don't be upset if I don't follow back since I only follow news sites here.
The same holds true with the Facebook news site.
Use them as resources.
Let me know if this makes sense.