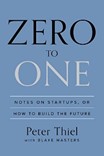 This is worth a read for many of you.

Who should read Zero To One:

Anyone embarking on new business start up

Anyone looking for a job with a start up

Independent sales reps looking for an edge in the new economy

Anyone wanting to learn the new economy

Peter Thiel is the founder of PayPal. He offers advice on new technology and making a disruptive businesses.

Primarily, he shows you how to create a business that will become a monopoly.

He is not talking about a government sponsored monopoly but a business that is the only one (from zero to one) controlling the market that nobody else can get into. Think Google, Facebook, and Paypal.

These are the types of companies I want to work with – and the ones that will create the new jobs.

But even if you work for a company that is not disruptive or a market monopoly, this book can help you create your own monopoly within your skills and specialty. In short, offer them something no one else does or can.

I listened to it during three good workout sessions on Audible.

Go for it. Tell me your review.