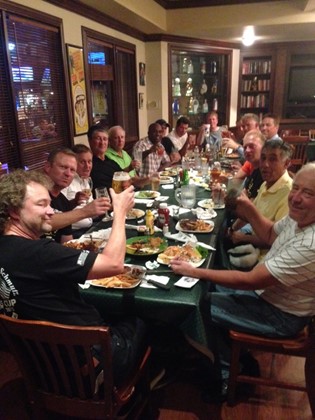 The Euro US Cup is an international gathering of golfers who play in a Ryder Cup style event each year. I was invited to play on the US team in this year's 15th celebration.
It was a great event for me.
I met 14 guys from around the US and the world I would have never met before thanks to golf.
I spent some time with my good buddy Raleigh Rick Meadows who captained the US squad.
I was able to chronicle a good portion of the on and off course activity on video using the iPhone to shoot, edit, and deliver. This is proving to be a big hit with a number of companies that need massive amounts of video that is inexpensive and quick to produce.
All of the videos are on my YouTube Page under the Playlist The John Daly Golf Show.
This was the kick-off piece I produced.
Here is the video on the outrageous Cato Day where we must dress crazily or lose strokes in the competition.
In this video, I chronicle Day 3 that was a 36-hole slog through some Florida monsoons.
This video shows how the Euro US Cup has entered the new media age. Golf Game Book, a new app, provided real time coverage of the competition for family and friends to follow the action online or on mobile.
In this video, I review our day trying to navigate the famous 17th hole at the TPC Sawgrass, clearly a bucket list for most.
In this video, I look at the full competition on Day 4 at TPC Sawgrass and how the Euros began to pull away.
On Day 5, the Euros retain the cup despite the best efforts of the US squad.
And in this video, I offer my slightly irreverent commentary on why the Euro US Cup is better than the Ryder Cup.