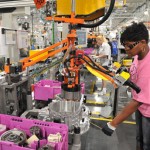 I am deep into another report from The Economist.  This one is on Outsourcing.  It's another light at the end of the tunnel – and it is no train, just a good opening.
You may need a subscription.  Again, I highly recommend The Economist as a source of information.  The magazine is great, but so is the website.
Here are some take-aways:
More companies are returning manufacturing to the US. 
The cost of labor is still cheaper in China.  But the gap is not as wide.   Those Chinese workers are audacious enough to want union-like rights and contracts.  The Chinese government, fearing uprisings, have been giving in.
Other costs such as transporting goods are rising, making it more prudent to produce here.
Energy costs in the US could be dropping dramatically thanks to natural gas and shale – making it advantageous for foreign companies to build plants here.
American companies worry about their technological secrets and innovations getting away from them in a foreign country.
American companies find that innovation drops when manufacturing and development are far apart on two different continents.
American companies find it easier to take care of customers when the manufacturing facilities are in the country of the customer.  Ironically, a number of foreign companies are building manufacturing plants in the US to be near US customers.  Many US companies will keep facilities in China to cater to the growing consumer market in China.
What do we need to do:
New laws need to be enacted to make it easier for American companies to come back and foreign companies to feel welcome here.
Technical and technology education must be emphasized.  With all these potential jobs coming here, it would be a shame (make it a crime) if we couldn't fill those jobs with qualified people.
This last point allows Republicans and Democrats to give-in together.