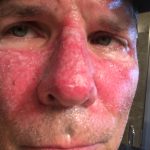 Here's my latest selfie.  So what is happening with my face?
Multiple choice:
I'm preparing for a permanent role as the lead in Phantom of the Opera.
I entered a French fry bobbing contest.
I am undergoing a pre-skin cancer prevention treatment.
The answer is, of course, 3.
When my college buddy Steve Quish sees this, he will say, as always, "Nice face! What do you feed it?"
Well, I am feeding it a daily dose of a Flourouracil Topical Cream Solution.
This is a 3-week process, and I am just now entering the third week. It looks worse than it feels; reminds me of the first bad sunburn of a summer. There is some peeling and cracking that requires a good amount of Vaseline.
The goal is to draw out any pre-basal cell carcinoma that might be lurking, hidden in my skin. It is similar to a peel.  I can actually feel some baby soft skin in some areas.
My dermatologist, Tom Braza, prescribed this. He says the cream works better than freezing or burning off suspect spots.
He thinks it's best to exercise caution since I had a basal cell on my back 30 years ago, and because my father was prone to skin cancer on his face.
I decided now was a good time since I have no on-camera work scheduled and I will be done before the heat of the summer.
This is all about prevention.
How does this work with Liberty HealthShare?
This would be a shared medical expense. Since I have not hit my Annual Unshared Amount (AUA) – my yearly costs of $1000 per couple – I directly pay  my health care provider for these costs.
This is part of being proactive with your healthcare to make sure you prevent future, catastrophic costs.
Being a member of Liberty HealthShare allows me the freedom to do this because my monthly costs are low.  This freedom also encourages me to take responsibility for and control of my healthcare.
If you're interested, call 888-616-9443, or enroll here.
Updates on my face coming.  You won't recognize me.  I might look like a baby's behind.