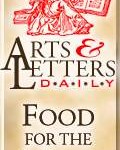 Take a look at this site – Arts and Letters Daily.
Yes, it sounds academic and artsy-fartsy.  Parts of it are.  (What Providence College literature major couldn't resist stories on Saul Bellow, Marilyn Monroe, Erich Fromm, and Karl Marx in one sitting?)
But for Informed Not Inflamed purposes, this is a nice shortcut to lots of news sources.
Go to the left-hand column and click on "Breaking News".  What nicely appears is a list of news organizations and daily newspapers from around the world.
Go through 4 or 5 of these using the Informed Not Inflamed speed reading method.  Try perusing the same stories from publication to publication.  Again, don't make this a marathon; it's a controlled sprint to gather what you need to know.
Why bother?
The World is getting smaller.  We Americans are seeing how other nations – even the smaller less developed – are affecting all aspects of our lives.  Their news organizations report things differently through their perspectives.

China and Russia are still involved in a Cold War of sorts with us.  The goal is economic control.  Reading their newspapers gives us some clues to what these governments are thinking or trying to put out there as propaganda.

Reading a variety of publications – including biased or more extremist publications – will reveal some truth.  Yes, it will require some work on your part and reading between the lines.