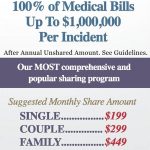 So many of you are inquiring about Liberty Health Share now.
And for good reasons:
The new rates for Obamacare are hitting you.
There is no concrete information on how Obamacare will be repealed or replaced – and what effect that will have on you.
So, I am posting a lot on social media so you can see some of the videos we have produced that should answer many questions.
But if you need more info, contact me on any of my pages.  I will gladly talk to you about how Liberty Health Share has helped me.
Or you can call 888-616-9443.  Someone at Liberty Health Share will either answer your questions or get back to you.
The smartest and quickest way is to enroll here.  You will submit your medical history.  Don't worry: no payment will be required; and your medical history will be safe and secure.
Right now, Liberty Health Share has more than 100,000 members sharing medical bills.  And that has happened in only 3 years.
This is a revolution in healthcare that I predicted more than a year ago here.
Here is one reason why I joined: high tech and high touch.  Watch here.
It might sound corny, but as more of us join we will be making our nation healthier while drastically reducing medical costs.